10 Ways to Increase a Property's Value Prior to Sale
Published date: 14 April 2022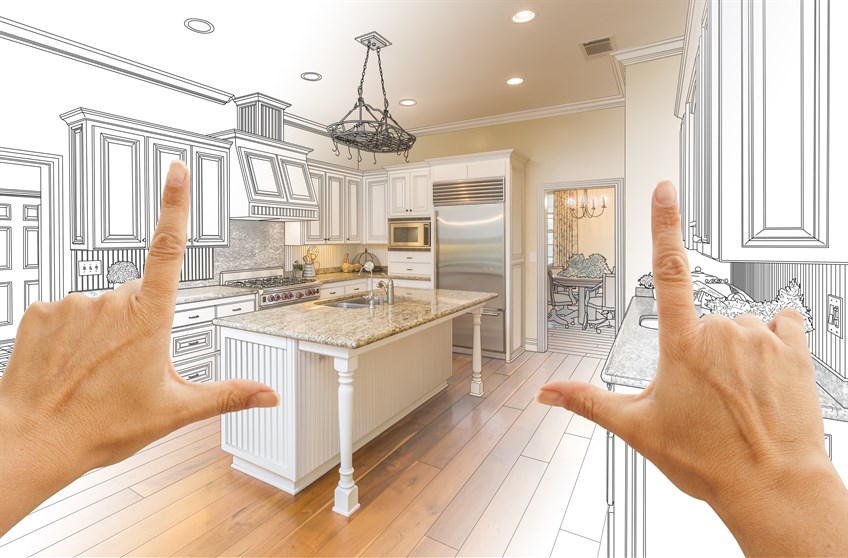 For UK homeowners looking to sell their homes in 2022, there are a number of renovations that can significantly increase the value of their homes. From loft extensions to kitchen renovations, home improvements could increase a home's value by over £100,000, according to the new Home Improvement Trends Report from Rated People.
"Presenting a stylish, well-designed, and functional home to buyers is a key way to differentiate and sell your property quickly," says Ryan Ninnis from Foxtons estate agents, quoted in a recent House Beautiful article. "We regularly see increases in value of 15-20 per cent for owners who have made home improvements that appeal to the demands of the local market."
So, which home improvements add the most value for UK homeowners?
We have looked through a range of recent articles and reports to compile what we think is the most comprehensive guide to upgrading a home for a successful sale. And remember, as DIY specialists, we have all the products and accessories homeowners could possibly need to get the job done!
1. Cellar conversion
Potential added value: Up to 30%
This is a big project, but the payoff is substantial, particularly in London where space is at a premium and prices are higher. Converting an existing cellar into a living or storage space can boost a property's value by up to 30 percent.1, 2
An added benefit is that planning permission isn't required as it qualifies as a 'change of use' for planning purposes and is covered by permitted development rights. The rules may be different in a conservation area, so the local council should be consulted in that case.
It is worth noting, however, that outside London cellar conversions have lost their popularity and therefore their value.
2. Loft conversion
Potential added value: Up to 15-20%
Moving from the bottom to the top of the house, a high quality loft conversion which adds an extra bedroom and bathroom can add anything up to 15-20 percent to the value of a property, especially in a city location.2
3. Kitchen renovation
Potential added value: Up to 15%
For just about everyone looking to buy a property, the kitchen (and bathroom – see below) will have a huge influence on their decision to buy or not. As the saying goes, kitchens and bathrooms sell houses, so having an up-to-date modern kitchen is one of the best ways to add value to a home.1, 3
It is worth bearing in mind, however, that a brand new kitchen is costly and may not necessarily the best way to go. Instead, a decent renovation may be enough.
4. Garage conversion
Potential added value: Up to 15%
Depending on location, a garage conversion is a useful way of adding valuable space and significant value. It's important to keep the future buyer in mind when considering a conversion – it may make more sense in a city location where space is a premium, but less so in a rural area. It's best to check with local estate agents to get their advice. In the right location, however, a garage conversion has the potential to add 15 percent to the value of a home.2
5. Adding a conservatory
Potential added value: Up to 10%
Adding a conservatory is a relatively cost-effective way to add as much as 10 percent to the value of a property.1 Conservatories are generally considered to be 'permitted developments' and do not require panning permission, provided they meet certain conditions. Building regulations are a separate matter, and while the majority of conservatories are exempt, there may be circumstances when an application will be required.
6. Deck or patio
Potential added value: Up to 10%
Garden space is limited in cities, so if the property benefits from a garden, it makes sense to make the most of it. A well-constructed deck or patio can transform a garden into an entertaining space and add as much as 10 percent to the value of a property, especially in London.1
7. Annex
Potential added value: Up to 5%
Extra space is becoming increasingly popular amongst UK homebuyers, with an annex ranked as one of the most valuable home improvements, worth an estimated £14,385. That equates to 5 percent of the average UK house price, although it could be more for a completely self-contained annex.4, 5
8. Bathroom upgrade
Potential added value: Up to 5%
A new bathroom will definitely increase the value of a property, but it can be an expensive investment. Fortunately, it's possible to make updates on a budget. To keep the price down, sellers should consider keeping the existing layout, buying a bathroom suite rather than individual pieces, and waiting for sales. If done right, a good bathroom upgrade can add 5 percent to the home's value.1, 3
9. New double glazing
Potential added value: Up to 4%
Double glazed windows can have a significant effect on how energy efficient a home is, which in turn will affect the Energy Performance Certificate (EPC), something that buyers will definitely look at. Double glazing also keeps the noise out – especially important if the property is on a busy road or in a city centre location. Good double glazing throughout can add up to 4 percent to the value of a property.3, 6
10. Upgrading the boiler
Potential added value: Up to 4%
As with double glazing, having a new boiler is a real selling point. Boiler replacements and repairs can be a significant ongoing cost and an old and outdated boiler can actually devalue a property and be a turn-off for potential buyers. A recently installed boiler, on the other hand, reassures potential buyers and can add up to 4 percent to the value of a property.3, 6
How to add value on a budget
If money is an issue for sellers, many home improvements can be done on a budget. Repainting walls, hanging new wallpaper, fitting new carpets, repainting the front door or simply undertaking general maintenance to breathe new life into different areas of a home can make a huge difference. All of these improvements will help to make a good first impression.
DK Tools and Amtech – the ideal home improvement partners
DK Tools is one of the UK's leading suppliers for the home DIY and home improvement market. Under our Amtech brand we design, manufacture and distribute over 2,000 tools and accessories for the home, garage and garden. With a strong focus on quality, value and range, we have everything a homeowner might need to upgrade their home prior to a sale. We are therefore the perfect partner for stockists looking to take advantage of the home improvement boom.
References