DK Tools Wins 'Garden Tool of The Year' at DIY Week Awards
Published date: 31 May 2022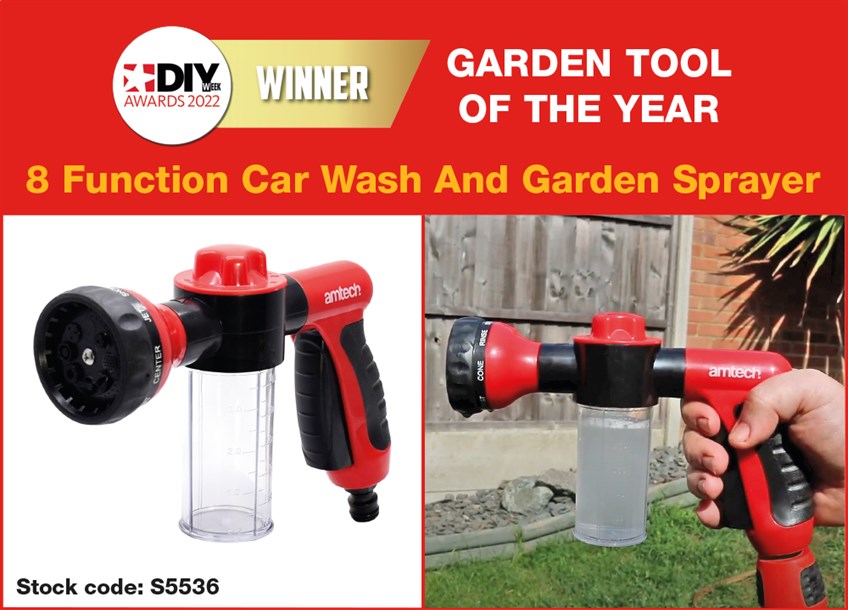 DK Tools is delighted to announce that its 8 function car wash and garden sprayer was named 'Garden Tool of The Year' at this year's DIY Week Annual Awards. The company's mitre and multi-angle marking gauge was also highly commended in the 'Hand Tool of the Year' category.
The 8 function car wash and garden sprayer (Amtech product code S5536) 'kills two birds with one stone' by allowing users to clean their cars and water their gardens with one device. A unique feature of the 2-in-1 sprayer is its 100ml capacity dispenser that can be used for either soap or garden feed. The dispenser also has a handy flow control dial, allowing the user to adjust the concentration of liquid to be added to the spray, with the option of switching to just water (for rinsing the car after washing, for example).
With eight spray patterns: shower, mist, cone, rinse, stream, flat, centre and jet, the sprayer fits any standard ½" garden hose connector. It is ideal for car washing, applying lawn care or other plant feeds.
Because of its dual action and eight functions, the sprayer will be especially attractive to cost-conscious users who will find its versatility a definite advantage. This is a definite selling point for high street and independent retailers.
The mitre and multi-angle marking gauge (Amtech product P4005) is an invaluable marking tool for a wide range of DIY and carpentry activities. Its unique 10-in-1 design allows easy marking of angles, holes and marking out dovetails on softwood and hardwood.
It allows different angles and hole centres of holes in repeated places, from 2mm to 55mm from the edge of the surface, in 1mm increments. It is ideal when cutting 45° mitres or when drilling holes for hinges, locks and rails, both vertically and horizontally.
"We are absolutely delighted to have won the 'Garden Tool of The Year' category, as it reinforces our position as a growing force in the gardening sector," says DK Tools' Head of Marketing, Ricky Johal.
"Being highly commended in the 'Hand Tool of the Year' category – and having won that category last year – also cements our position as a leading British tool supplier."
DIY Week Annual Awards is organised by DIY Week magazine's publisher, Datateam Business Media, and is one of the highlights of the industry calendar, where guests come together to celebrate the innovative products and forward-thinking retailers across the DIY, home improvement and garden sectors.